Parcel 24 Delivery the fastest delivery service in Bahrain announces the biggest update until today! Parcel always aimed to differentiate its system and keep it updated for the partners, our partners now can enjoy fast delivery, cash collection, tracking, 24 hours support, and more.
Parcel delivery system now includes:
• Parcel wallet.
• Orders history.
• Order history export.
• Branch creation.
• Direct payment in the application.
• Support ticketing system.
• Multi deliveries.
Parcel wallet
Parcel wallet is the new update that includes everything you need to manage your cash flow! Now, you no longer need to wait for the weekly remittance Parcel will collect all the cash you need and transfer it directly to your bank account when requested.
Parcel wallet withdrawal.
Parcel wallets top-up.
Parcel wallet limit.
Parcel wallet FAQ
Q: What will happen to the weekly remittance?
A: Weekly remittance is no longer there; you can request your collection anytime you want.
Q: How long does it take to receive my payment?
A: It is immediate; however, it takes up to 2 days after the approval of the payment.
Q: How to withdraw my free vouchers?
A: Unfortunately, vouchers are not cashable. It can be used only for orders.
Q: What will happen to direct transfer?
A: Nothing will change, but to receive the top-up you must request it through the wire transfer using wallet top-up. IF there was no request through top-up the transfer will not be added automatically.
Q: If I did not have enough credit, can I still make a request?
A: Unfortunately, you must have enough credit to request drivers.
Orders history
Clearly defined order details when you view the orders:
Reporting issues
Now you can report any issue regarding an order immediately in the order history, by clicking the "REPORT AN ISSUE" button.
Orders export
To check all the orders you requested, Parcel added a new function (asked mostly by the accountants to make their job easier), now you can export all the requests created by your branch in detail by clicking "EXPORT ORDERS" in the orders tab, and an email will be sent immediately in an excel sheet.
Branches management
Do you have multiple branches? We made it easier for you! Now you can manage all branches from your main account, create branches, delete branches, and see branch performance!
Create a new branch by clicking on the "ADD NEW" button in the branches tab.
Fill in the required information for the branch:
Note: branch login is different from the main account login and can be accessed separately.
Ticketing system
We made it easier for you to track your queries! A new full support system is created by Parcel now you can create tickets inside the system to follow up.
Simply click on the "NEW TICKET" button in the support tab to create a support ticket if Parcel could not resolve your inquiry through the live chat.
And you can see all your precious tickets with the update!
By clicking on the new ticket button, you will be asked to:
1. Add a subject for your ticket.
2. Select the category of your ticket (Inquiries, Complaints, Technical Issues, and Billing inquiries).
3. Choose the branch you need support for (if in the main account).
4. Add the task ID if the ticket is related to a delivery task.
5. Tell us what happened and attach any related document.
6. Submit the ticket and we will get back to you as soon as possible!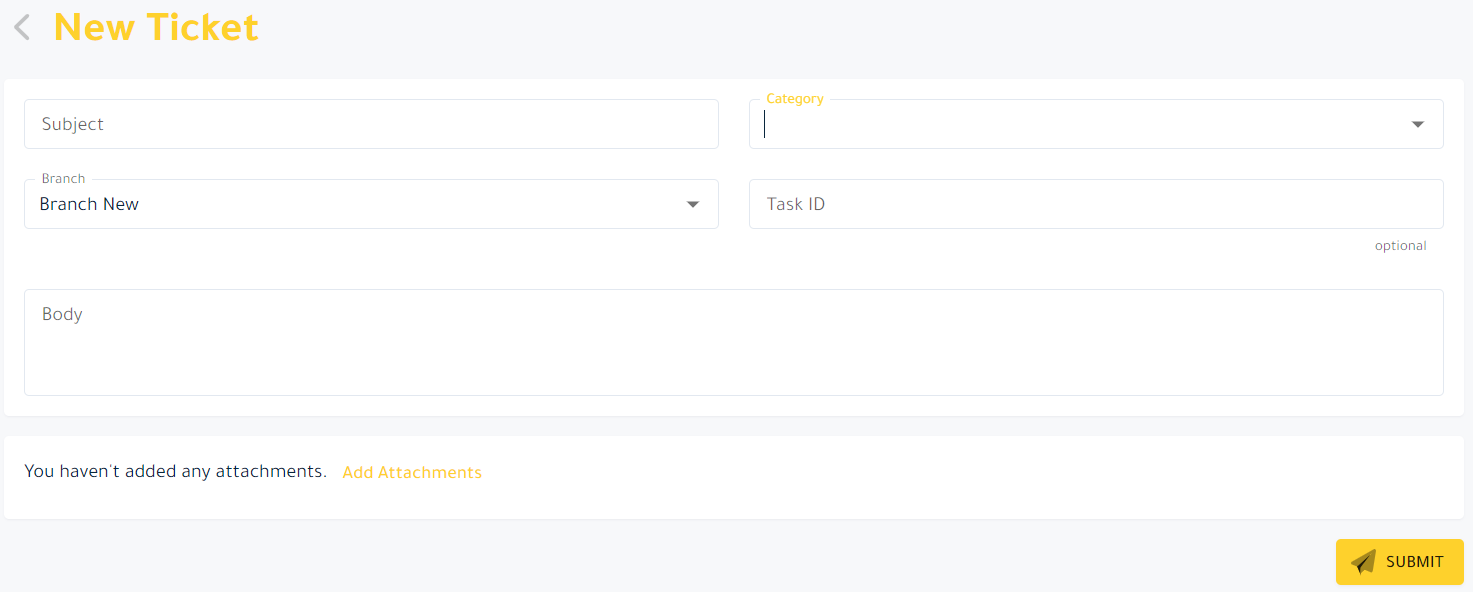 We at Parcel 24 Delivery aim for the best delivery experience for you and your team members, therefore, we make sure that our system is updated regularly to meet your needs. This update was made based on the needs of our business partners, you also can be part of our family and request customization based on your needs!